Welcome to Day 8 of the 12 Days of Save.com.
A twist on the 12 Days of Christmas - we're bringing you 12 days of exclusive (not available anywhere else) deals from some of our favorite retailers.
Today your exclusive deal is for: 25% savings on Bliss, Remede and Elemis products with code DBSAVE25! (Expires 12-24-2012)
Bliss is chock-a-block full of goodies to make you happy. They have everything from spa services at 27 locations worldwide to bath, beauty and unique gifts on the blissworld.com website. Here are a few gift sets that would make a few people on my gift list very happy.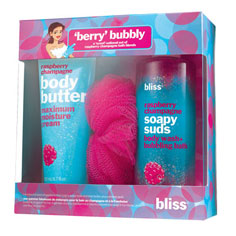 bliss 'berry' bubbly gift set: Regular Price: $32.00; With Coupon: $24.00
a 'scent'-sational set of 'spa'-kling raspberry champagne bath blends
Uncork your softest skin yet with this spa-inspired bubbles and butter duo, bursting with a limited edition raspberry-infused champagne scent that's positively 'skin'-toxicating. Includes full sizes of raspberry champagne soapy suds and body butter, plus a shower pouf. ($47 value!)
• Raspberry Champagne Soapy Suds (16 oz): whips up a luxe lather and doubles as bath bubbles
• Raspberry Champagne Body Butter (6.7 oz): delivers mega-moisture in our 'spirited' scent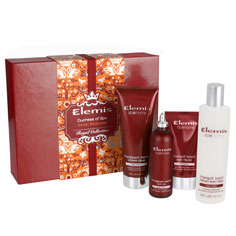 elemis duchess of spa gift set: Regular Price: $95.00; With Coupon: $71.25
a decadent collection of exotic bodycare favorites (a $148 value!)

This quartet of bathtime blends is fit for a noblewoman—or just someone spoil-worthy on your gift list. Features a relaxing roundup of beautifully fragranced formulas for cleansing, exfoliating and softening skin: Frangipani takes you to a tropical paradise with an exotic floral scent, and Tranquil Touch enhances your mood with aromatic essential oils. Packaged in a perfectly 'present'-able gift box.

set includes full sizes of:
• Frangipani Monoi Body Oil
• Frangipani Monoi Shower Cream
• Tranquil Touch Creamy Body Wash
• Tranquil Touch Body Polish
---
Previously on the 12 Days of Save.com:
Day 1: SAVE 25% Off Select Gifts At TimeToSpa.com (Expires 12-10-2012)
Day 2: SAVE 25% off All Orders at Fannie May (Expires 12-10-2012)
Day 3: SAVE 10% Off All Orders + Free Shipping at Shoebuy.com (Expires 12-31-2012)
Day 4: SAVE $12 OFF Any Go Select Packages of $100 or more (Expires 12-31-2012)
Day 5: SAVE $15 OFF All Orders of $150 or more at Overstock.com (Expires 12-11-2012)
Day 6: SAVE 20% OFF Any Purchase of $50 or more at Carol's Daughter (Expires 12-12-2012)
Day 7: SAVE 30% OFF at Gap, Old Navy, and Banana Republic with coupon code: HOLIDAY (Expires 12-13-12. Restrictions apply)